EV Road Trip #1: Kern River and Carrizo Plain
This is the first in what I hope will be a series of posts about road tripping in my 2019 Hyundai Kona Electric.
I wound up with a free day off at work a couple weeks ago, so decided I'd take a short road trip to get some fresh air and see some sights. I'm originally from the southern US, but living in Southern California (a whole different kind of southern) these days. SoCal is pretty chill, but one thing I dearly miss is running water. The closest real river (not a concrete-lined drainage channel, actually running all year) is the Kern River in the southern Sierra Nevadas, so I figured I'd go check it out. I headed out from Orange County on a Thursday, charged up to 90%. In the interest of breaking up the drive a bit, I planned to stop at Vasquez Rocks and Red Rock Canyon along the way. I've been to both before, but they hold up well to repeat visits.
Without traffic, Vasquez Rocks is just a bit over an hour from home. Unfortunately, with things getting back to ~normal, traffic is beginning to return, so I put the carpool stickers to good use for once. I got there just after 10 AM, and took a short walk around the main loop trail. You've likely seen Vasquez Rocks in some show or movie - since it's close to LA and cool looking it shows up a lot (most recently I spotted it in For All Mankind). There weren't any movies filming, but there was a halfway decent band making a music video!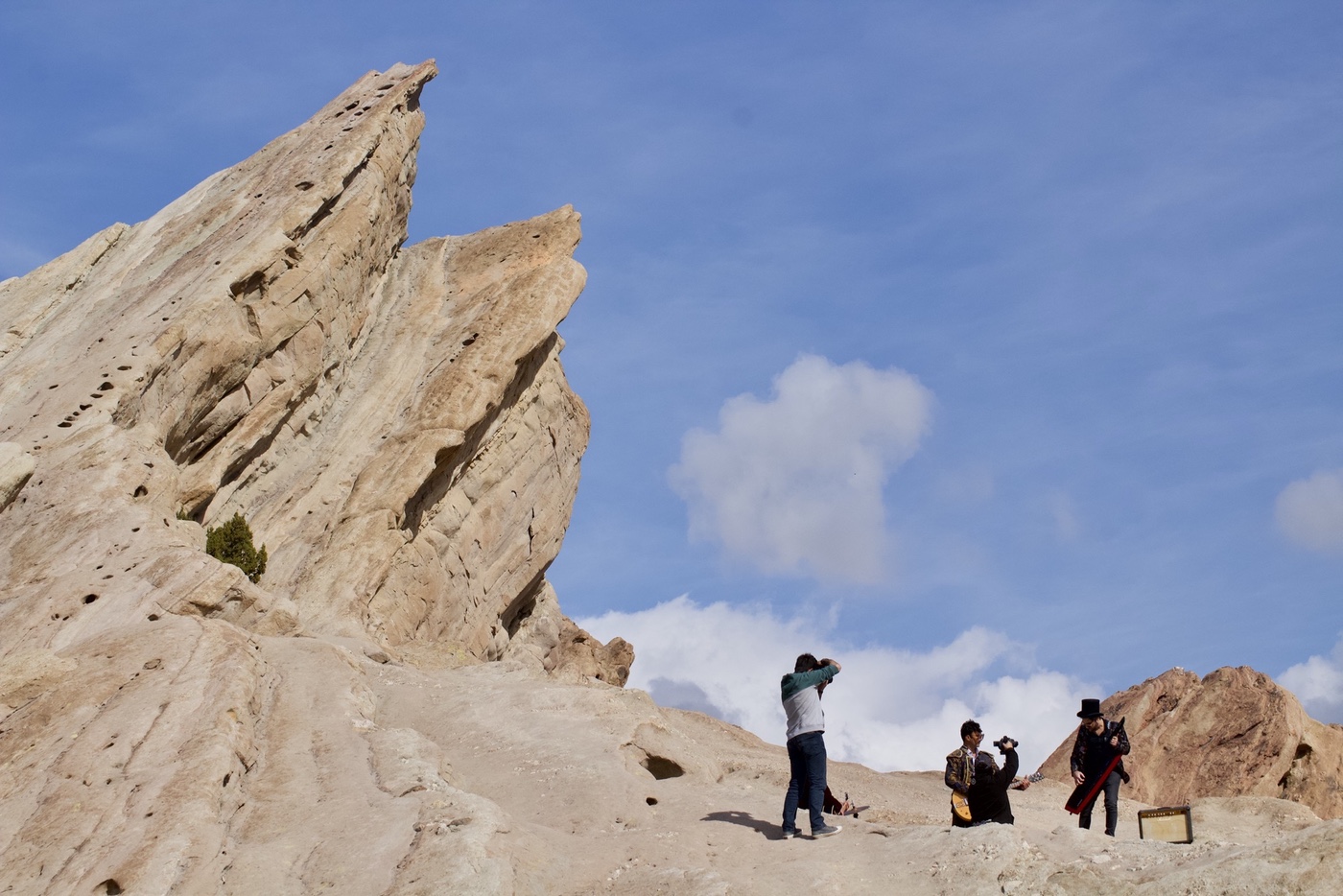 After about 45 minutes I got back on the road, over the pass through the San Gabriel mountains at about 3200 feet and dropping down into the high desert. As it often is, the desert was windy - there was probably a good 20–30 MPH breeze from here on out. My next stop was the Electrify America charger in Mojave, which I rolled into at a 32% SOC and put in 32 kWh to get to 80% for a total of $13.76 while I had some lunch.
Next up was Red Rock Canyon State Park. Although I'd been here before too, I'd apparently missed the turnoff for the most dramatic part of the formation, which I stopped at this time. The wind here was pretty intense, but the scenery more than made up from it. Aside from one guy on a motorcycle there was nobody else there, and I happily spent some time wandering around and taking it all in.
From here on out it was a straight shot to home for the night along the Kern. I took CA–178 up into the Sierras, which was an incredibly scenic drive. Most surprising was the thick grove of Joshua trees surrounding the highway as it began to climb into the mountains.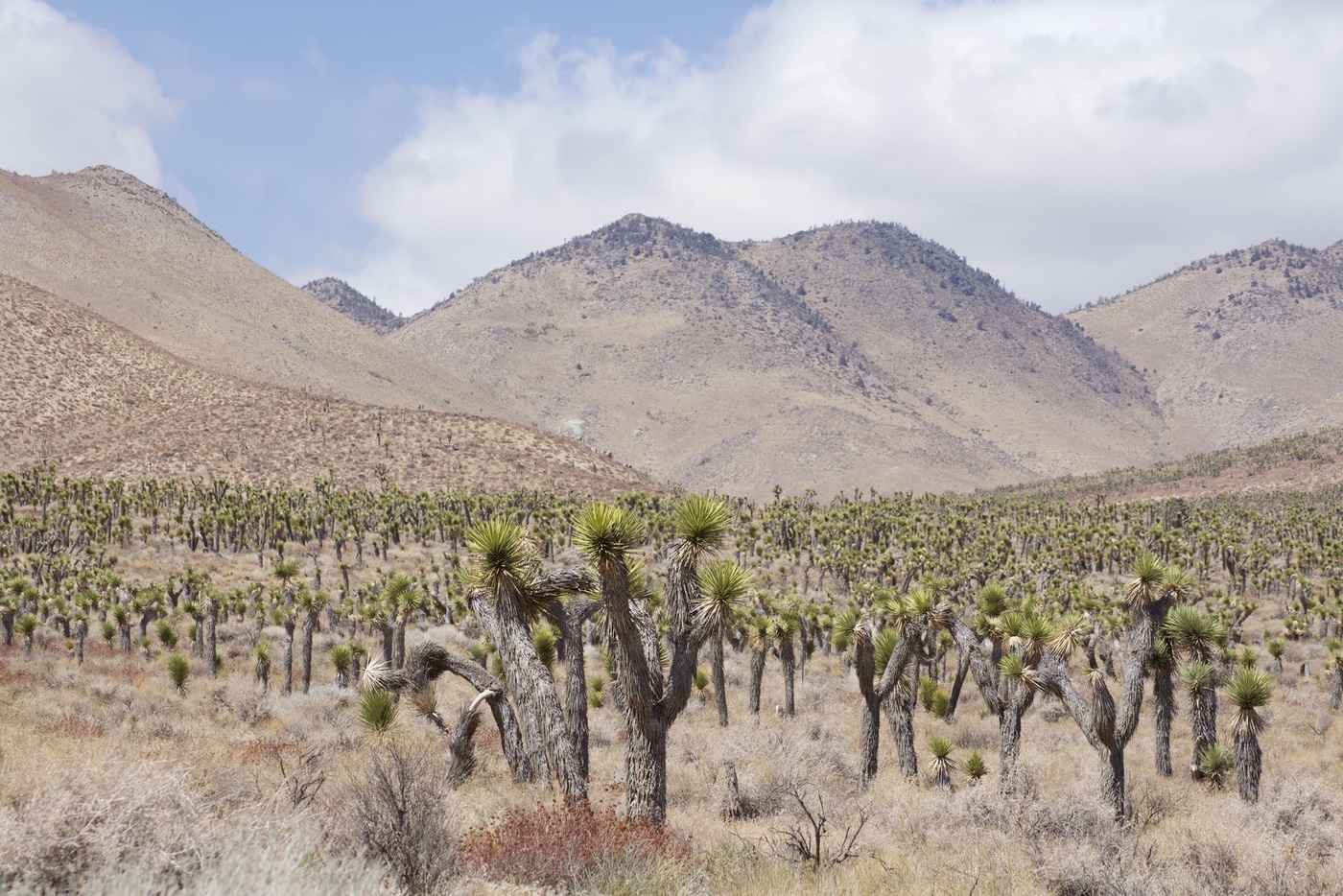 The road continued nice and twisty up to Lake Isabella, where I turned off and kept climbing up into Sequoia National Forest paralleling the Kern, before finally arriving at the dispersed campsite at Calkins Flat with just about 100 miles left on the GOM, for a total of 241 miles for the day and 4.1 miles per kWh - not bad for around 8–9000 feet of total elevation gain. Unfortunately, the wind was still going, so getting my tent set up was a bit of a challenge, but I got it sorted out just in time for a shockingly loud flyby by some sort of military aircraft, which fortunately didn't return overnight. With my camp made, I walked a short ways down to the river for a beer and some fishing. The Kern River is known for trout, and while fly fishing seems to be the popular approach, I figured I'd just try my luck with a roostertail. The river was rather calm by the camp, but a short ways downriver there were some minor rapids with a nice eddy behind a big rock in the middle of the stream. Sure enough, I started getting a couple bites, and eventually managed to catch a trout before heading back to camp to warm up a pot of gumbo for dinner while the sun went down behind the mountains.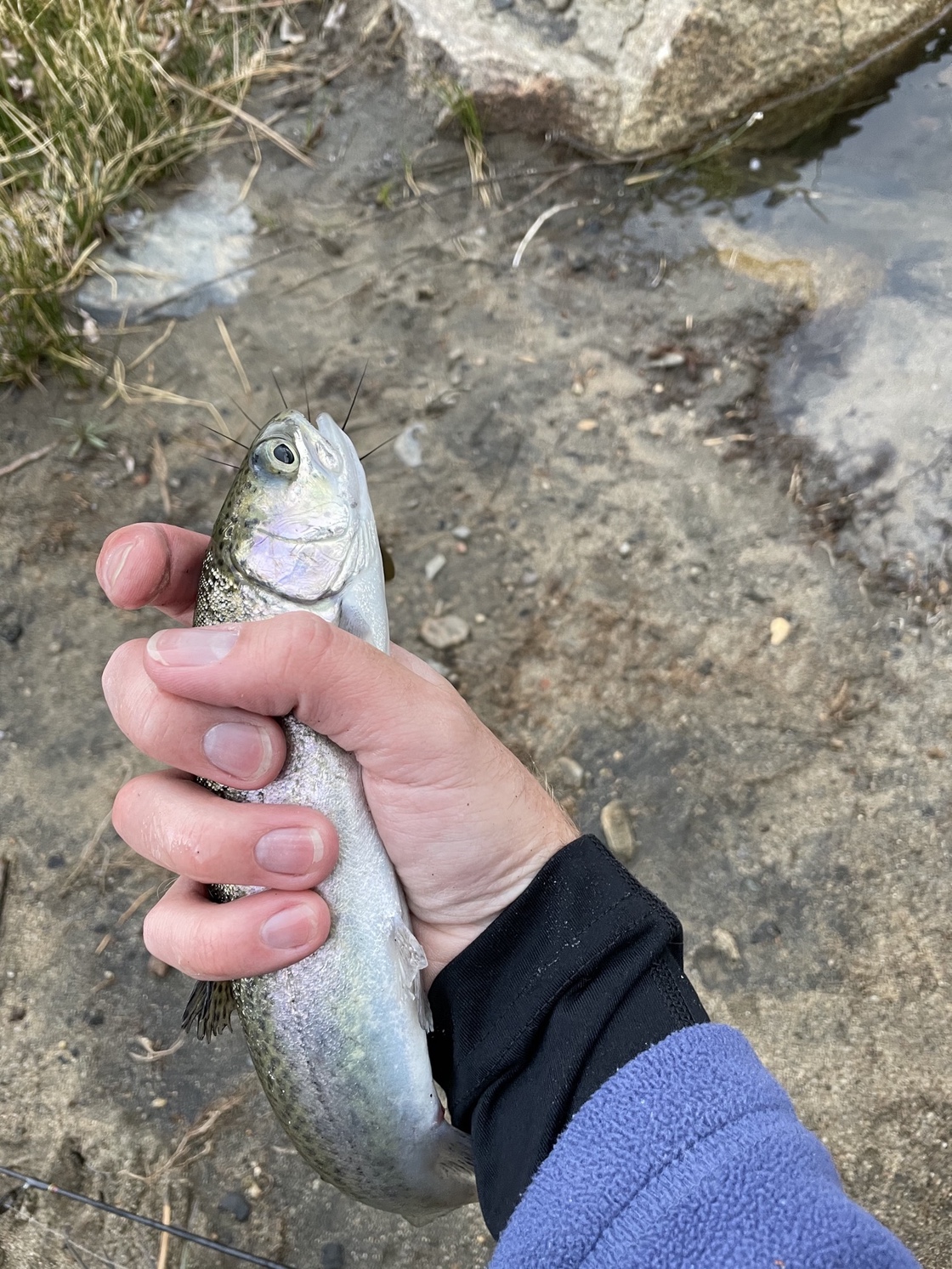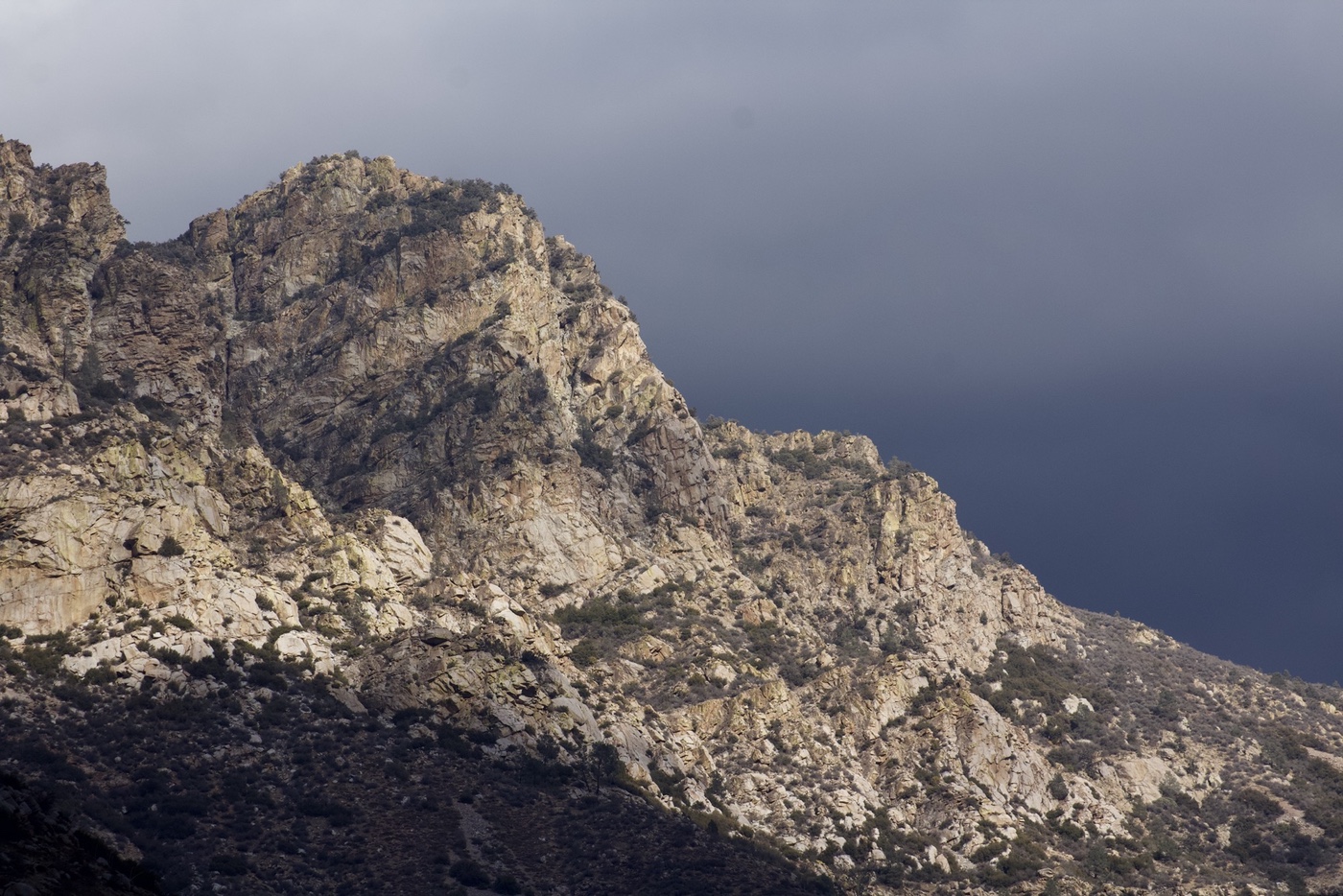 Since the wind was still going, I decided to call it a night early. It was one of those perfect nights where it's just cold enough to make you really appreciate how warm and cozy you are in the sleeping bag, and although I noticed a few drops of rain right as I was falling asleep, I decided to take my chances and not bothering putting the fly on the tent. Seeing as how this is California, betting against any real rain is close to a sure thing, and I thankfully lucked out and didn't have to deal with an unexpected midnight shower.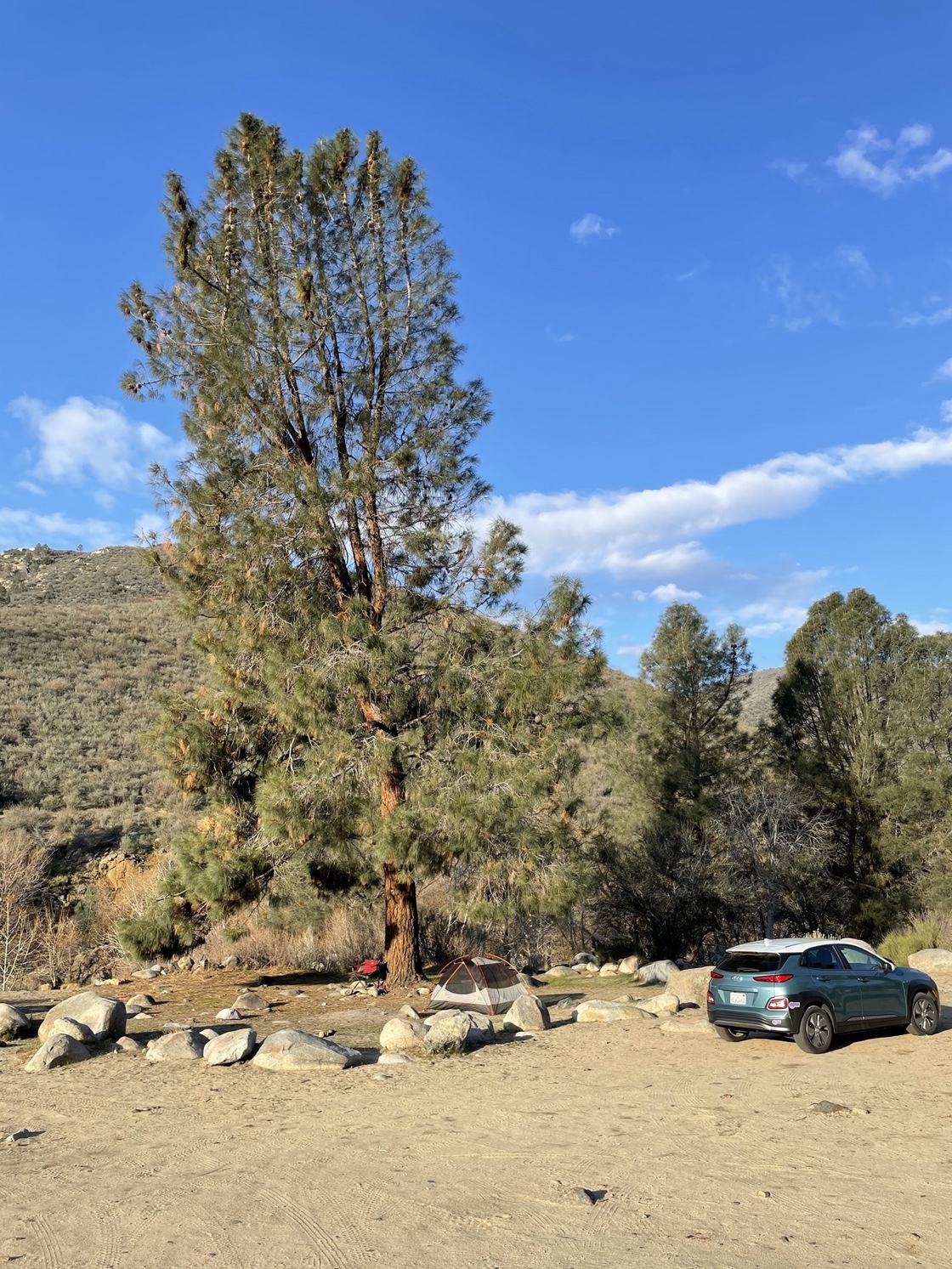 Morning dawned clear and calm, quite the contrast from the stormy night before. I headed on out a bit before 9, planning to hike the Kern River Trail a ways downriver. Getting to the trailhead involved running across the highway from a pullover on the other side, only to find a closed gate. Fortunately, a local hiking group (one of them in a Model Y) showed up and pointed me towards the actual trailhead. The weather was pretty idyllic, probably in the low 70s with a slight breeze. At this lower elevation further down the river, there had apparently been at least some rain this year, so the grass was green and there was a nice smattering of wildflowers along the trail, which paralleled the river maybe a hundred feet or so above it. There were also a good number of fat ground squirrels running around and tearing down the hillside as soon as they spotted me, along with some ravens circling above the foothills and the odd lizard here and there warming up on a rock.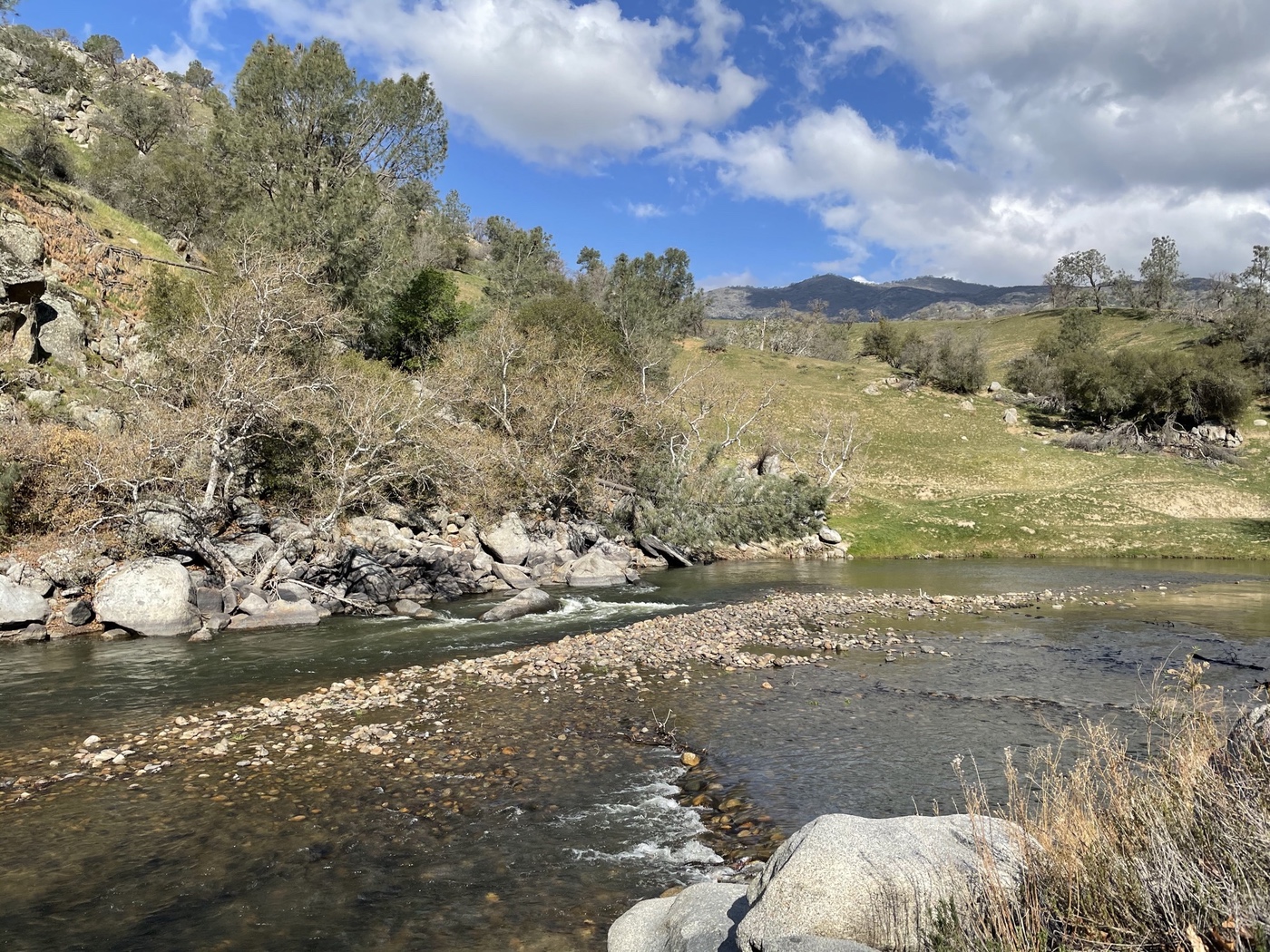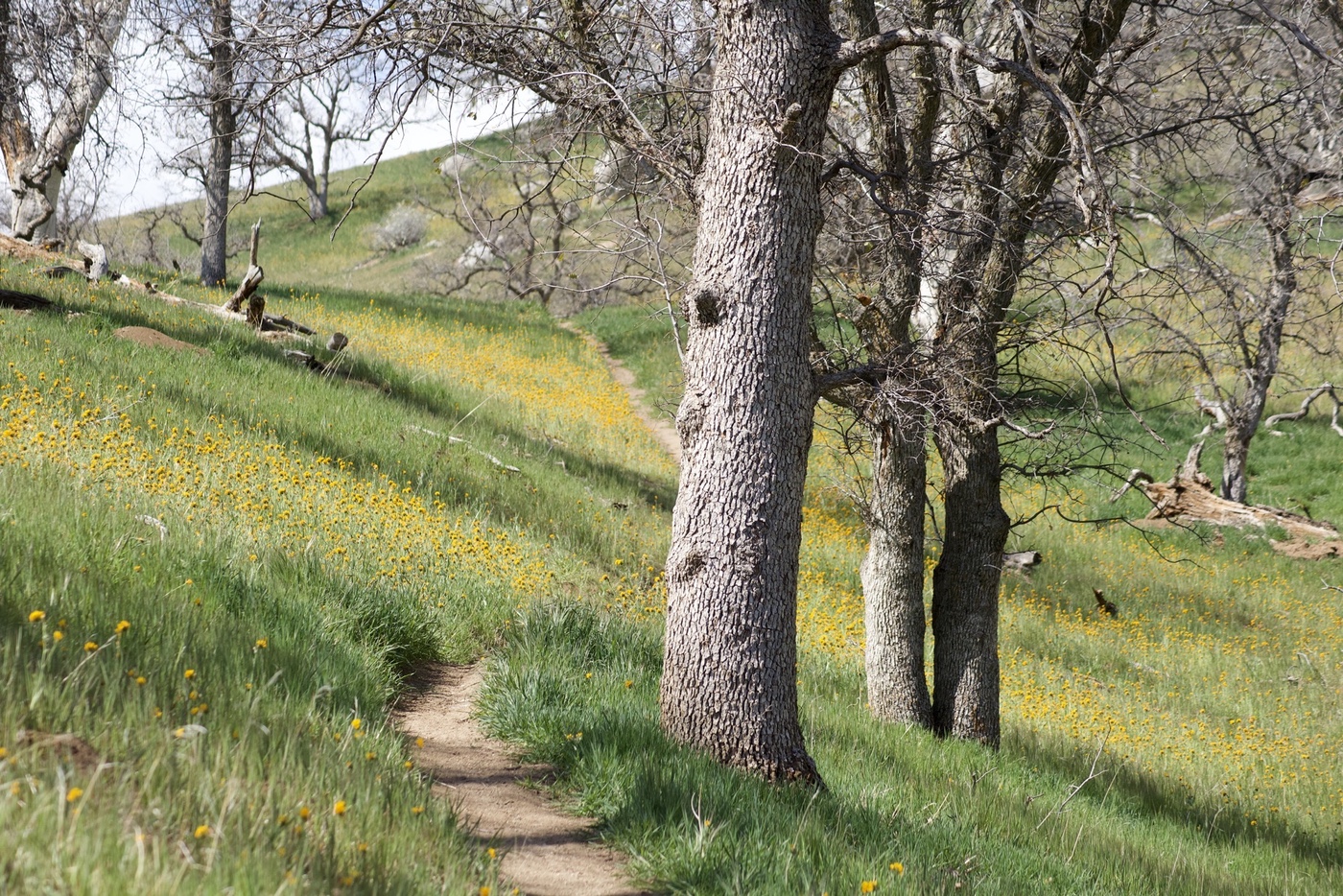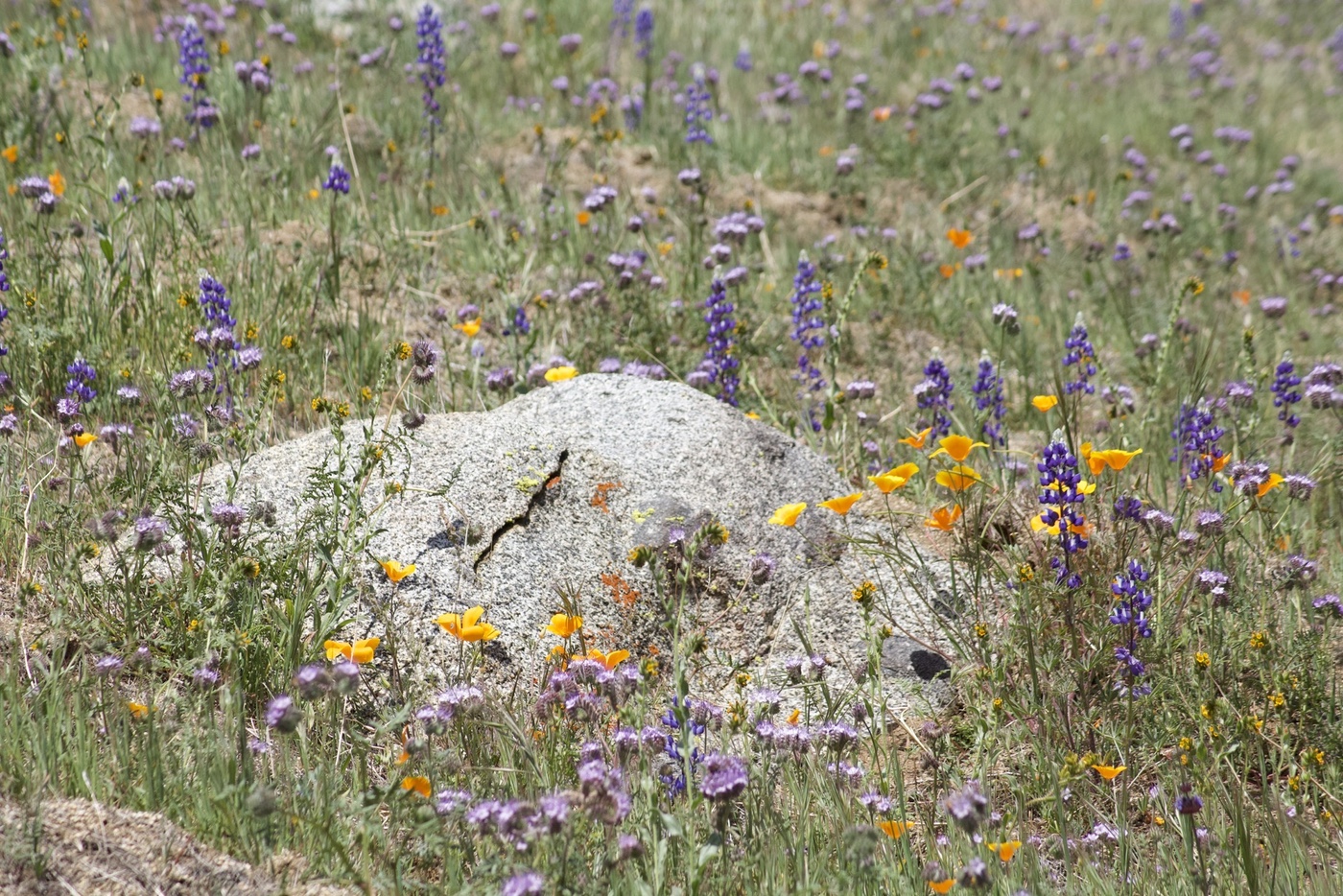 After the hike, I continued down into Bakersfield in the Central Valley. Today's target was Carrizo Plain, another valley separated from the main Central Valley by a mountain range formed by the San Andreas Fault. In wetter years, Carrizo Plain is one of the best wildflower spots in the state, but a wet year this was not. I stopped off at a Chargepoint station along I–5 with about 50 miles on the GOM and a little under 20% SOC (despite this being about 90 miles from Calkins Flat - all downhill helps!), and topped off to 80% for $17.42. This station was busy - the other two chargers were taken up by a pair of Bolts, but I fortunately didn't have to wait for a free spot. From here I took CA 58 (another incredibly scenic route, once it reaches the Temblor Range dividing Carrizo Plain from the Central Valley), then branched off on the aptly-named Seven Mile Road to drop down to the Soda Lake dry lakebed in Carrizo Plain. As I'd expected, the entire area was bone dry with not a wildflower to be seen, but the dry grass and brilliant white lakebed against the sky had its own appeal. I continued on Soda Lake Road, which alternated between paved and dirt, with varying degrees of maintenance, for about 40 miles down to the southern end of Carrizo Plain. Towards the south, the valley narrowed and the hills closed in before ending at the base of the Transverse Range.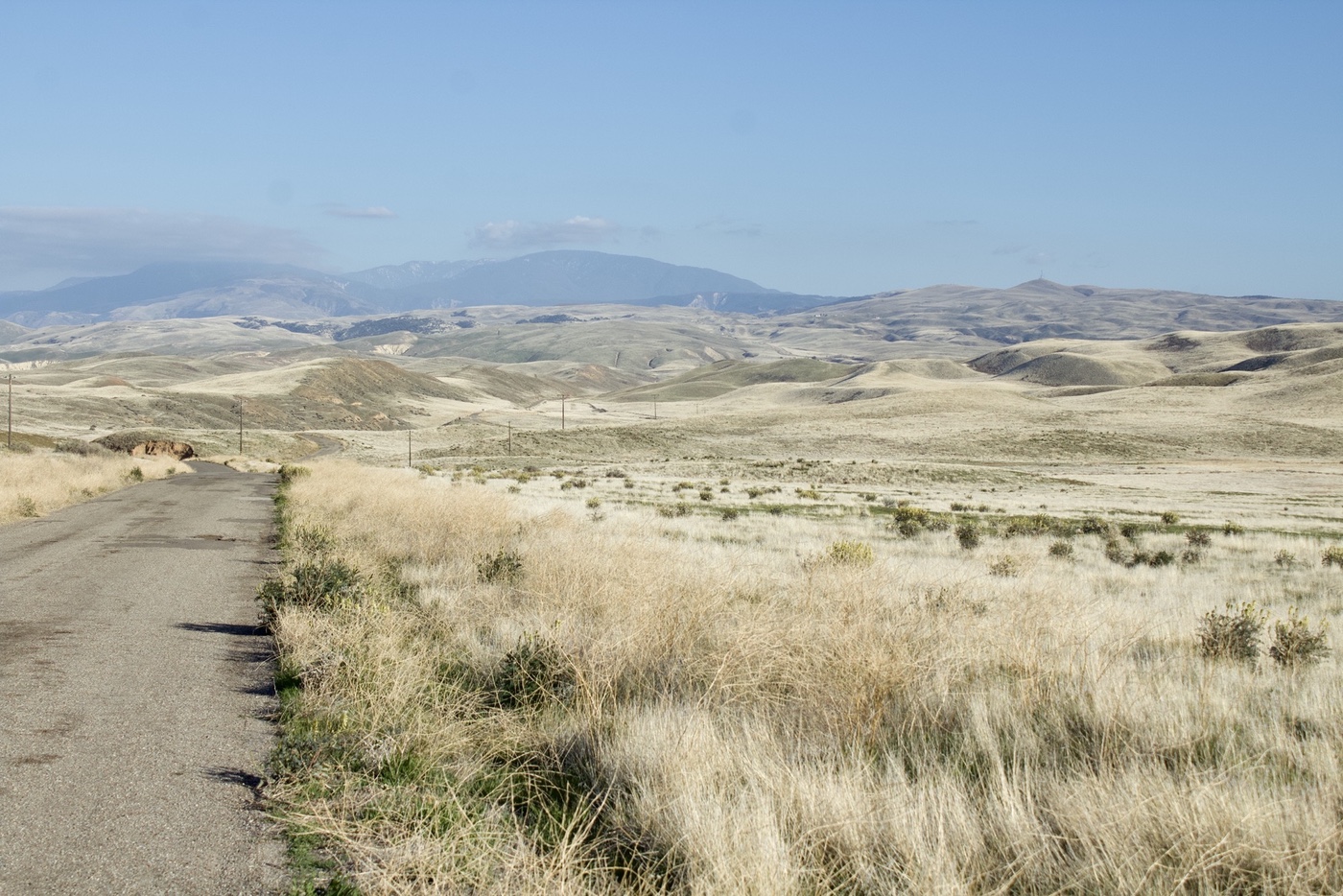 I decided to go for one more mountain drive, and continued up onto Hudson Ranch Road, rather than taking CA 166 to cut back over to I–5. This turned out to be a great choice; the road was deserted, and climbed back into the foothills right as the sun was setting, before passing through Los Padres National Forest near the base of Mt. Pinos, where there were still a few spots of snow along the side of the road. I rolled into another Chargepoint station near Tejon Pass (I don't quite recall the SOC, but I think I had about 80-some miles on the GOM - right on the edge of maaaybe being able to make it home) and added 21 kWh for $9.55 for a solid buffer. All told, the day totaled 343 miles at 4.8 miles per kWh.